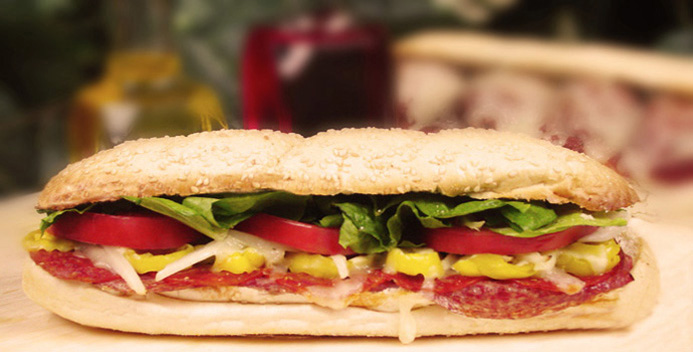 Meatball – This classic sub comes with meatballs, homemade marinara sauce, topped with melted provolone cheese.

Italian Sausage – This all time favorite sub comes with Italian sausage, marinara sauce and melted provolone cheese.

Sausage Sub (Fair-Style) – Italian Sausage covered in marinara sauce and topped with sauteed onions and green peppers. A Simple yet satisfying sub!

Veggie – Our veggie sub is stuffed with mushrooms, onions, green peppers, black olives, banana peppers, tomatoes and melted provolone cheese. Our homemade Italian dressing finishes off this sub.

Italian Meat Sub – This lunchmeat sub comes with ham, salami and pepperoni. Provolone cheese is melted and then topped with lettuce, tomatoes and our homemade Italian dressing.

Godfather (pictured above) – The holy grail of lunchmeat subs. Ham, salami pepperoni, melted provolone cheese, lettuce tomatoes, banana peppers, onions and finally topped off with our homemade italian dressing.

Philly Cheese – Thin sliced roast beef, sauteed mushrooms & onions, and provolone cheese in a fresh sub roll.